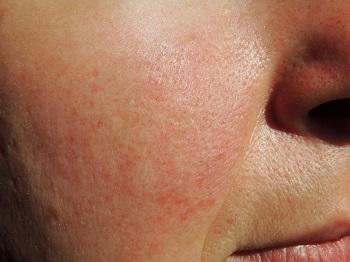 If the skin on your face becomes red, irritated, and patchy for no particular reason, and the symptoms don't go away no matter what you try, you might have a case of rosacea. This is a common skin disorder that affects 415 million people around the world according to statistics published by the National Rosacea Society. Learn how a dermatologist at Griffith Dermatology in Knoxville, TN can help you manage and control rosacea symptoms.
What Is Rosacea?
Rosacea is an inflammation of the skin on the face that causes red patches, severe blushing, acne-like marks, and pustules. The rash can spread to the chest and back as well. It is most common in patients who have light skin. Doctors and experts are unclear about what specifically causes rosacea, but theories include genetic predisposition, blood vessel abnormalities, allergies, and diet. Sometimes rosacea cases are related to an abnormal amount of a microscopic mite on the skin, or bacteria (H. pylori) that can affect the blood vessels.
Rosacea Treatment Options
Although rosacea doesn't have a well-defined cure, there are treatments that can help minimize symptoms and keep them under control. Talk to your Knoxville, TN dermatologist about these possible solutions:
- Medications, applied topically or taken orally.
- Laser treatments and photorejuvenation.
- Steroid eye drops when the eyes are irritated.
- Dietary change recommendations.
Tips for Managing Your Rosacea Symptoms
Rosacea is a chronic condition that can cause embarrassment and stress when you worry about your facial appearance. Here are a few tips for how to manage your symptoms:
- Keep your face clean and moisturized. Be gentle with your skin and use dermatologist-recommended products.
- Avoid spicy foods and keep a food journal to determine if flare-ups are related to an allergy.
- Use sunscreen and avoid too much exposure to the sun's rays.
Get Help with Your Rosacea Symptoms
It's time to get help from a dermatologist with your rosacea symptoms so that you can regain confidence in the appearance of your skin. Call (865) 588-1361 today to schedule a visit with Dr. Robert Griffith, Sr. or Dr. Robert Griffith, Jr. at Griffith Dermatology in Knoxville, TN.